EVERYTHING ON THIS PAGE IS CURRENTLY UP FOR AUCTION AT
http://pkmncollectors.livejournal.com/12153365.html

UNTIL MONDAY 5/14 @ 8:00PM PST
THEN IT WILL BE GOING TO AN EBAY LOT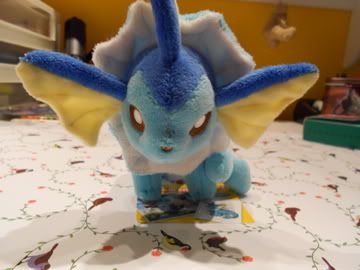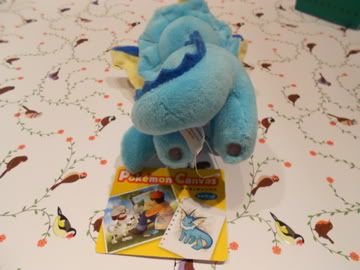 Vaporeon MWT Canvas Pokemon Center Plush
Worth: $200-$300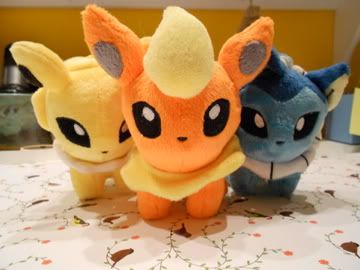 Flareon, Jolteon, and Vaporeon Reject Pokedolls (Minky, Tush Tags Only)
Worth: $10-$15 each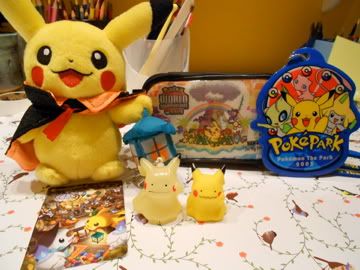 MWT 2011 Pikachu Halloween Pokecen Plush: Worth $30
Pokemon Worlds Hawaii DS Case: Worth $20-$30
Dittochu Glow in the Dark Keychain: Worth $10
Dittochu Kid: Worth $10
Pokepark Lanyard with Card Holder: Worth: $5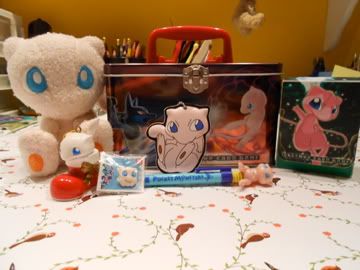 Mew Banpresto Terrycloth Plush: Worth: $30-$40
Mew In Boot Ornament: Worth: $20
Mew Tiny Button: Worth $8-$10
Mew vs. Lucario TCG Tin: Worth $20
Mew Keychain ID Holder: Worth: $10-$15
Mew Mechanical Pencil: Worth: $20
Mew TCG Deckbox with Divider (slightly marked on face) worth $10

OMG RULES:
*All pkmncollectors rules apply
*Sales permission granted by dakajojo 09/03/11
*I ship from California, USA
*Prices DO NOT include shipping
*Plush starts at $5 to ship, figures start at $3, and flats start at $1 within the US
*International buyers will probably have to pay more for shipping
*Once your item leaves my hands to ship, it is no longer my responsibility.
*I will not provide a tracking number unless you require so. Tracking is an additional .75 I believe.
*Items come from cat and dog friendly home- but I do try to keep them away from my collections.
*Haggling is fine
*I will hold items for no longer than 3 days, then it will beput back up for sale.
*Trades are VERY accepted!!!! But I will not accept cards for plush or figures- sorry :(
----------------------------------------
---------------

Trades: Regular:
Any Mews, Bellossom, Oddish, Wooper
Any customs of above pokemon. (no sprites plz.)
----------------------------------------
---------------

Trades: Cards for Cards:
*don't care if they're holo or non holo
Any Mews (already own the 1st promo, ancient, big 3d looking head, and the one that looks like the new tomy)
Any Oddish (except base/fossil/jungle)
Any Bellossom
Any Espeon
Any Skitty
Any Wooper
----------------------------------------
---------------
****Again, haggling is more than welcome. I'll most likely accept X3
****Trading is more than welcome, too!
This post is for feedback for -snowtigermar- for the Pokemon collectors LJ community.
What's funny is I didn't care for Mew originally. I <3ed Vulpix. But when the Pokemon Center was still online (what was that, like 4 years ago?) and I had a chance to buy plushies and "real merch" I lost my love for the firey fox and gained lovin for the pink kitty.
What's really cool is having a nice job to be able to afford to have a collection, but it does suck that working takes up so much time so I loose out on bids :(
So if anyone has pretty much any Mew merch they haven't sold yet, I'll most likely buy it from you. At good prices too :) (I don't really like the derpy looking things, but I'll take a look)
Pikachu: I'm a little picky on. I'll only buy super kawaii (cute) plush or figures, or merch that has a use to it (containers, binders, notepads, towels, etc)
(
Pink and Yellow!
Collapse
)
So, I've been a Pokemon Collector since it hit big in America... 1998/1999 or so. I bought mostly the cards, since I was 10 and didn't have enough money to get plushies or... anything else really. I had a few things back then and I kept everything stored away until a couple of years ago when I realized "wow, kawaii is fun". And since then I've started collecting. En mass. Everything Mew and Super Kawaii Pikachus.